Interview with author Keren Dibbens-Wyatt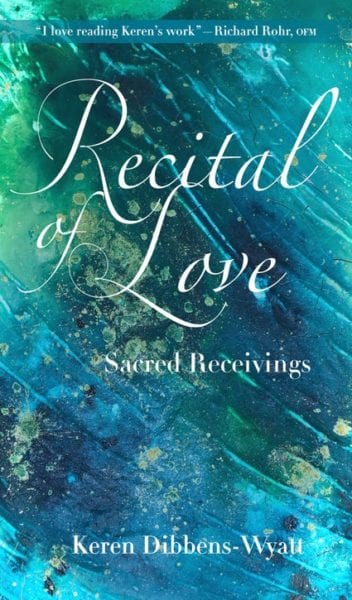 Keren Dibbens-Wyatt's latest book

Recital of Love

was published by Paraclete Press in September.

I asked Keren to tell me a bit about herself and about Recital of Love, which I received as a pdf file of the ARC (Advance Review Copy).

You describe yourself as a mystic, writer, poet and artist. Do you find that one form of creativity provides inspiration for others? Is one of these your favourite or is that something, which changes from time to time?

I think if you are a creative person then the chances are you'll try lots of different ways of expressing that. For me, though, almost everything begins in prayer. That and the contemplation of nature and Scripture are where all my inspiration comes from. Writing is the main expression of that for me. At this time, art comes second to that, and I probably spend the least amount of time on poetry, because for me that comes at very specific, usually highly emotional moments.

You obviously have a passion for words. Apart from the Bible what do you enjoy reading?

Cognitively, reading is much harder for me than writing. I read a lot more non-fiction than I used to. Mostly spiritual and theological books. When I come back to fiction I tend to be seeking comfort rather than stimulation, and will go to the books I loved as a child and continue to enjoy, like Winnie-the-Pooh and Heidi!

Did you write Recital of Love as the result of having an idea for a book or did the book spring from writing you started and collected together?

The latter. Very much so. I collated the pieces from my prayer journals, and they felt as though they were not just for me, but to be shared.

How long did it take you to write it? Was it difficult to find a publisher?

About a year. God is never in a rush. I have had a lot of rejections for other work, but this book was picked up by the second publisher I queried. Holy Spirit had nudged me to send it there. And Paraclete Press who took it on have been just wonderful, especially at working around my illness.

Your writing is very descriptive. Do you see pictures, which you then describe in words in the way CS Lewis did?

With the pieces in Recital, the words tended to just flow, but as I hurried to write them, I would often also see in my mind's eye the thing I was attempting to describe, be it a shoreline or a pat of butter.

I know you suffer from M.E. How do you manage your time and energy to be so creative?

This is a constant mystery to me, because I am actually not able to spend very long writing at all. Most days I manage less than half an hour. And yet, I have a great many stories, articles, books, and poems, even novels on my hard drive awaiting a home. And my art I probably spend even less time on because it is physically more demanding. Yet somehow I have five large portfolios full of paintings and drawings. It feels very much like loaves and fishes!

Keren, thank you for finding the time and energy to provide the answers to my questions.

Keren's book is available from Eden if you do not have a local Christian bookshop.

A small section of it appears in an online article written by Keren.